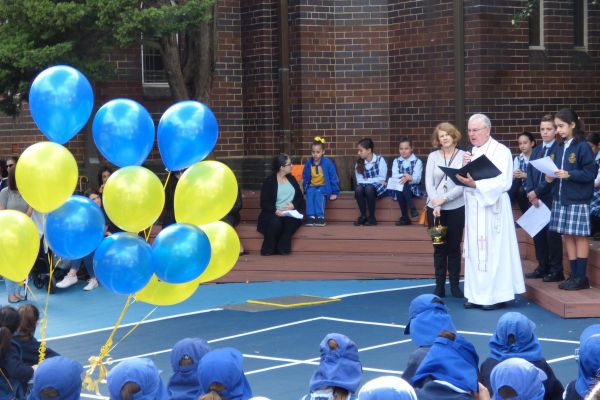 Students at St Mary's Catholic Primary School Concord have more ways to spend their playtime with new playground areas inspired by one of the world's most famous scientists.
Many hands have made light work of the school's $280,000 playground revitalisation completed over four years with the help of parent fundraising and council and community grants.
Principal Anna Marsella said the playground's design and inclusions were inspired by Albert Einstein's words 'play is the highest form of research'.
"The challenge with almost 500 students to cater for was 'how can we maximise these spaces for the children so that they become a place where they are more active, have spaces to socialise and talk, and passive areas for play?'" she said.
I see everyone having more fun and being more active.
Mrs Marsella said one of the playground's most popular areas was a passive space filed with recycled materials brought to the school by recycling and education co-operative Reverse Garbage.
"We don't typically give our children enough opportunity to be creative, inventive and imaginative in the playground," she said. "Through play like this they learn to problem-solve, think critically and collaborate. All of that research is being played out in our playground."
Other playground spaces include new handball courts, slides, a sustainable garden, outdoor chalkboards, and a rock-climbing wall for younger students.
Artist in residence Christine Curtis worked with students to paint tiles for an artwork on the school's welcome wall that spell the message 'every child matters'. Parish priest Fr Paul Crowley blessed the space at a school assembly emceed by Year 6 leaders Ethan McGoldrick, Jude Chalhoub, Charlize Petracca and Alyssa Drummond. A time capsule will also be buried on the grounds with reflections from students that express their gratitude for their playground spaces and detail what they are learning.
Jude said the library had also been updated and was a good place for passive play including chess club and to read or catch up on homework in the mornings.
"More students go in to the library than before – you can play chess on Monday at lunch and it's a good way for people to bond," he said. "Now that we have more equipment it gives you more options and makes the playground more diverse. It's amazing."
Years 5 and 6 students also make use of the new play equipment when they facilitate lunchtime activities for their Kindergarten buddies. Charlize said the slide equipment was a favourite, particularly with the younger students.
"I see everyone having more fun and being more active," she said.