Our teachers know their students and work with them to help them realise their potential as learners. Our focus on authentic learning and authentic assessment ensures that we challenge our students to grow in their learning and achieve their personal best.
Throughout our community of Sydney Catholic schools, we have shown high performance of our students in measures such as NAPLAN and the HSC.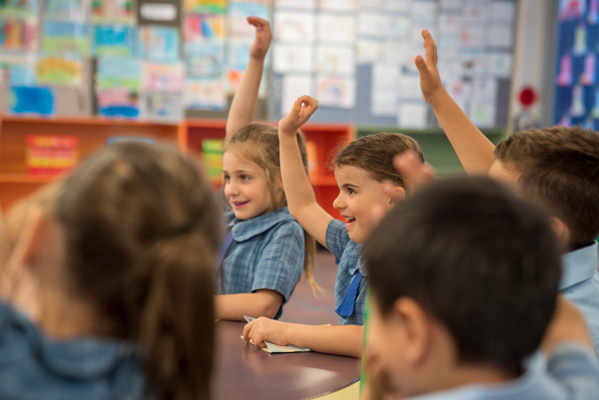 At St Mary's Catholic Primary School Concord, we are committed to setting high expectations and achieving success in our students where they demonstrate growth and are able to reach their full potential. Some of our proud achievements include:
NAPLAN Results
Our school is above state and above the NAPLAN 'results for statistically similar school groups' in Grammar and Punctuation, Numeracy, Spelling and Writing in Year 3. Year 3 has made significant growth in Grammar and Punctuation and Spelling.

Our school is above state and above the NAPLAN 'results for statistically similar school groups' in Spelling and Writing in Year 5. Year 5 has made significant growth in Writing.

Our school is also above the state and 'other schools similar in demographic to ours' in the Writing and Spelling NAPLAN results in Year 3 and Year 5.
School Awards
Students receive weekly merit awards celebrating achievements in class and termly student awards to recognise students who demonstrate growth in learning.
Gifted and Talented Students
St Mary's Catholic Primary School gifted and talented students are challenged within the classroom through differentiation. They are also selected to compete in competitions and enrichment opportunities such as

Tournament of Minds, Maths Games, Challenge Inquiry Symposiums, Da Vinci Decathlon and Maths Olympiads.
Art Work
Selected student art works are showcased in our school art gallery and students have achieved Jr Archibald Prize and were showcased in the NSW Art Gallery Exhibition.
Community Awards
Student annually receive community awards in art, leadership and service.
Sport
Many students have competed at various sporting levels within Athletics, Cross country and Swimming. Some have reached Regional trials, Mackillop trials and State trials. Teachers are very supportive of all students and in particular our special needs students, and have for a number of years and continue to participate in the BALMORAL BURN in support of one of our ex-students. We continue to celebrate the many wonderful sporting achievements of sports both at school as well as outside of school such as having a National 11 year old Taekwondo champion.
Pope Francis Service Program
Our students participate in the Pope Francis Service Program where they are awarded with a medal annually for volunteering in the community.
Other Awards
We have had students receive achievements of excellence in Science from the Museum of Australia.