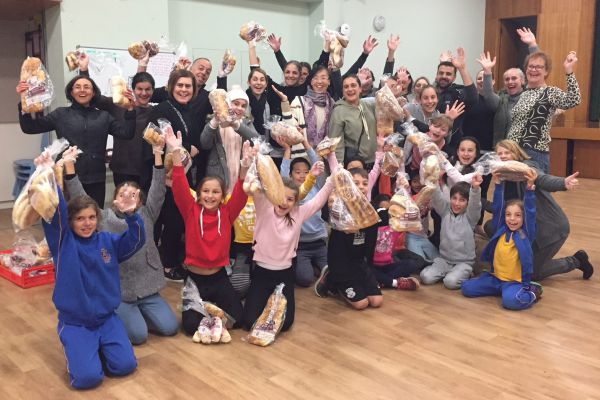 Students, staff and parents at St Mary's Catholic Primary School Concord have come together in May and June to ensure those in need are well-fed this winter.
The school has partnered with charity Gift of Bread to help 're-gift' donations from local bakeries to disadvantaged individuals and community groups, including St Vincent De Paul's Night Patrol and Fr Chris Riley's Youth off the Streets.
Families come together in the school or parish hall every Tuesday evening from 7pm to help pack sort and pack bread for groups and individuals in their local area, which is donated by Baker's Delight at Concord.
An essential element of Ms Favotto's role is ensuring the school's broader community feels a part its Catholic identity, which she sees as the ultimate impetus for their choosing to join Gift of Bread.
I like attending the program every Tuesday because I know that I'm making a difference, Simona Grieco
"Currently we have 28 families involved in a variety of jobs from sourcing our boxes from Coles, to picking up, packaging and sorting bread and delivering to clients," said the school's Family Educator Leeanne Favotto. "It has been a wonderful opportunity for parents and carers who may not be able to be involved during school hours to come along with their children."
"Children learn empathy and improve their emotional intelligence by stepping out of their comfort zone and helping others. Being connected to others reduces levels of anxiety, builds resilience and increases your overall level of happiness."
"I loved the idea of sharing bread as a community and the link to the Eucharist and Mass. To me it was a simple and practical way to reconnect our families with Christ and each other."
Students agreed, saying the program was a chance for them to live out their school's Catholic identity. Some of those involved volunteer as part of the Pope Francis Awards program, which rewards children for ten hours of volunteer service given to their school or their parish.
"Not everyone is lucky enough to have healthy food," said Marcus Lalani, Year 3. "It's important that if you have access to it you share it with those who need it."
"I like attending the program every Tuesday because I know that I'm making a difference," said Simona Grieco, Year 6. "Helping those less fortunate provides them with assistance and helps them overcome hardship. By caring for those in need, we are giving to God."